GOLD-STANDARD EDUCATION
We are part of Alpha Plus Group and follow robust governance procedures. Our teachers are subject specialists, taught at top universities, and with extensive experience of teaching the UK currriculum. Our boarding and pastoral staff are experienced and compassionate professionals.
STRONG ACADEMIC RESULTS
Across all 3 of our colleges, 42% of all A-Levels taken in 2019 were awarded A* or A grades. More than one third of our Foundation students achieved a Distinction, 42% of our BTEC students also achieved a Distinction. 36% of GCSEs taken by Abbey DLD students achieved grades 9-7.
PROGRESS TO TOP-RANKED UNIVERSITIES
Each of our students received personally tailored university application support and guidance to help them join the best possible university for them. More than 70 Abbey DLD students have joined Oxbridge college in recent years, 33 students progressed to a G5 university in 2019 (Oxford, Cambridge, Imperial, LSE, and UCL). 19 Abbey DLD students progressed on to study medicine in 2019, the most competitive of all UK courses.
HIGH-QUALITY URBAN BOARDING IN THE BEST UK CITIES
Experience the best of big city life with the safety and support of our outstanding pastoral teams. Our colleges provide some of the best, highest specification boarding available anywhere in the world, right at the heart of it's most exciting cities.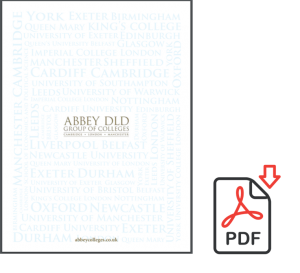 Download our International Prospectus:
– Abbey DLD Colleges
– A level/ GCSE/ Foundation courses available
– Progression to the top UK & Global universities
– Boarding & Accommodation
– College student life
– Fees & entry requirements