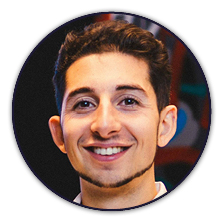 Wednesday 3rd February 2021, 5.30pm GMT
How to get an A*
Shoaib Ali (Assistant Vice Principal at DLD College London) John Branney (Assistant Vice Principal at DLD College Cambridge) and Kam Taj
Join DLD College London Assistant Principals Shoaib Ali & John Branney, together with Academic Performance Coach and University of Cambridge graduate Kam Taj, for an informal chat and Q&A exploring effective independent study habits and self-reflection for academic success.
Kam Taj Bio:
Kam Taj is a Cambridge-educated, London-based performance coach, speaker and author with a background in management consulting. Kam works with high-potential students & professionals on performance improvement, goal attainment and holistic life transformations. He is the creator of the Exam Success Academy online courses and the author of The Ultimate Guide To Exam Success. He delivers workshops at companies, schools and universities on topics such as academic success, parenting best-practices, resilience, emotional intelligence, time-management, vision setting and mental wellbeing.