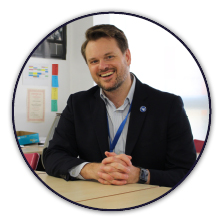 Date: Wednesday 24th June 2020.
Time: 10am BST
Presenter: Andrew Humphris, Head of Business and Commerce at Abbey College Cambridge
Join Abbey College Cambridge Head of Business Andrew Humphris for a sample business lesson.
Cash Vs Profit: The REAL ruler of commerce
We all understand the importance of profit for firms – after all, if there is no reward for entrepreneurs, why take the risk?
If we present weak profit and dividends…what would make investors part with their hard earned money to aid our growth as a firm?
But what about cash? How important is cash?
When so few of us use physical cash anymore, do we really understand the true value of cash?
In this session we will examine the importance of cash through a case study exploration of one of the UK's largest firms – a firm that could perhaps have benefited from attending this sample lesson!