Available at Abbey College Manchester, these exciting new courses are aimed at students who have a passion for football or basketball, and who want to continue training whilst they study.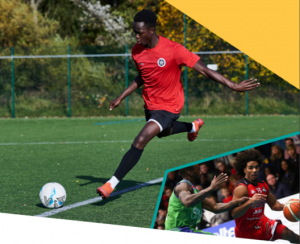 Why study Academic Studies with Football/Basketball Training?
This is a unique opportunity for students to gain qualifications for entry to university alongside intensive football or basketball training, which could lead to playing professionally or semi-professionally in the future. Football or Basketball training sessions are added to students' timetables without impacting on the core study requirements to gain their qualification.
How is it taught?
Students will study on our GCSE, A Level or International Foundation Programme in the mornings and have football or basketball training sessions led by professional coaches in the afternoon.
Assessment
Assessment will follow the specifications of the academic course students choose to pursue, these are GCSE, A Level and International Foundation Programme.
Facilities
Our student-athletes train at purpose-built professional standard training facilities. Training sessions are run by professional coaches. Basketball students train at the English National Basketball Centre alongside the Manchester Giants professional basketball team. For our students who want to take the next step, we organise regular trials with professional football and basketball teams.